Home Theater Anaheim
Home Theater and Audio/Video Installation Specialist in Anaheim, CA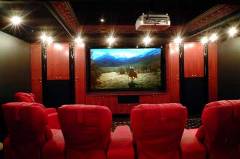 Building a home theater from beginning to end, upgrade or modify and improve existing systems, theater interior design, lighting, structural wiring. with over 20 years of experience in audio and video installation we are knowledgeable to do it all. Choosing Home Theater, the right Surround Amp 7.1, 5.1, 7.2, 6.2 and Receiver, Projector, Screen, LCD and Plasma, Blu-Ray, Media Players, DVD, CD player, I-Pod docking station, Universal Remote, and integrating all of these with HD programming from satellite. Whole house wiring, Automation, Integration. Sony, Pioneer, Panasonic, LG, Samsung... are just a few of our product line. Just call us and surprise yourself!
Professional Custom Audio Video Installation

Home Theater
Volume Control & Keypads
Touch Pads & Touch Panels
Digital Amplifiers
Multi-Zone Entertainment
Speakers
Wire Management
Universal Remote

Control all aspects of your home theater room. diming light, window blinds control, security view of premises on TV, intercom solution, automation, indoor, outdoor sound control all with a touch of a finger.
American Digitals is a recognized custom audio video installation / systems integration company. Discover high-performance home theater systems, media rooms, and home automation control systems for both residential and commercial applications. At ameicandigitals.com. we have constantly evolved with technology to provide the most efficient way of enjoying entertainment with lower cost and also higher productivity at work places. In a very fast paced technology industry we stay on course into the future.

Projectors Installed Nicely; We were in need of buying and installing 2 projectors for our training room and conference room in Los Angeles. American Digitals provided and installed them at great price and on schedule, Now our main conference room has been fully automated with a touch screen remote and an amazing surround sound AV system. Our training room is upgraded for 200 people with a very large projector screen and is fully automated with UNIVERSL REMOTE control by American Digitals. They are great and I absolutely recommend them.

Home Theater Installation Anaheim
home theater installation specialist serving Anaheim CA




LCD TV


Get professional Home Theater installation in Anaheim and enjoy more. Custom home theater design, products and installation by certified installers in Anaheim


surveillance/security




audio/video




satellite/DirecTV




automation/solutions




digital signage




solar panel




structural wiring




communication




intercom


networking/wireless

Now Professional Home Theater installation in Anaheim. Custom home theater design, products and installation by certified installers in Anaheim.